Circumcision is the cure for a hard heart and deaf ears!
Isaiah 42:20 "You have seen many things, but you do not observe them; Your ears are open, but none hears."

Acts 7:51 "You men who are stiff-necked and uncircumcised in heart and ears are always resisting the Holy Spirit."
Circumcision here refers to the removal of the flesh. It is the process which God takes us through to remove our fleshy nature surrounding our hearts and ears so we can better hear and understand Him.
"It is the Spirit who gives life; the flesh profits nothing; the words (rhema 4487) that I spoke to you are spirit and are life John 6:63
As our fleshy nature is removed we will be able to hear His voice more clearly. This is a process we go through and this is illustrated at the baptism of Jesus in John 12:29 where "A voice came out of heaven: 'I have both glorified it, and will glorify it again.' So the crowd of people who stood by and heard it were saying that it had thundered; others were saying, 'An angel has spoken to Him.'" Here it seems that some were more able to discern what was happening and heard more clearly than others.
As with the eyes if we want to get closer to God it is important to regulate what we listen to.
"He who walks righteously and speaks with sincerity, he who rejects unjust gain and shakes his hands so that they hold no bribe; he who stops his ears from hearing about bloodshed and shuts his eyes from looking upon evil; he will dwell on the heights, his refuge will be the impregnable rock; his bread will be given him, his water will be sure. His eyes will see the King in His beauty; they will behold a far distant land." Isaiah 33:15-17
In the parable of the lamp, Jesus said, "Take care what you listen to…." Mark 4:24
"Therefore take care how you listen; for whoever has, to him shall more be given; and whoever does not have, even what he thinks he has shall be taken away from him." Luke 8:18
Saul is an example in scripture of how we can listen with the ears of flesh/ to our flesh in a situation instead of relying on spiritual guidance, with disastrous results. He did this at the beginning of his reign as king in 1 Samuel 13 and 15. In 1 Samuel 15 he is told to "Strike Amalek and utterly destroy all that he has, and do not spare him, but put to death both man and woman, child and infant, ox and sheep, camel and donkey." 15:3 He fails to do this and when Samuel arrives and confronts him, he claims he had kept them to sacrifice to the Lord. The response of Samuel is "Has the Lord as much delight in burnt offerings and sacrifices as in obeying the voice of the Lord? Behold to obey is better than sacrifice, and to heed (to incline ears/pay attention) than the fat of rams. For rebellion is as the sin of witchcraft, and stubbornness is as idolatry and teraphim (good luck images). Because you have rejected the word of the Lord, He also has rejected you from being king. " 1 Samuel 15 v 22+23 ( Amplified)
It is wise to ensure that we have been circumcised and the flesh removed from our hearts and ears before we go into any battle for God as Joshua found out in Joshua 5.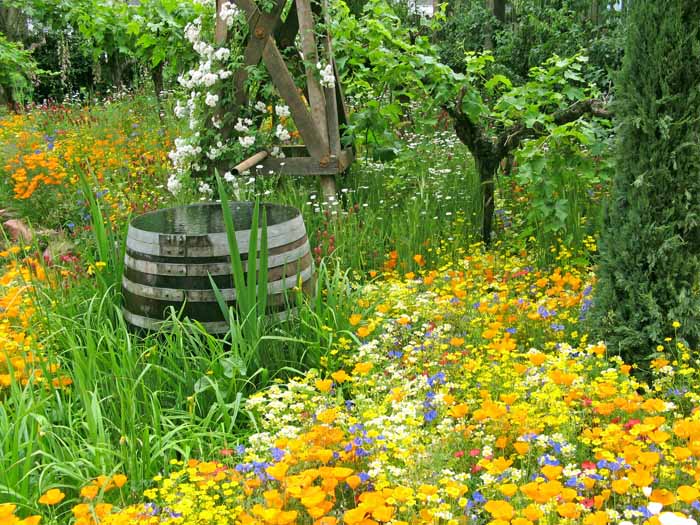 Our lives, like a vine can be well pruned and fruitful and still live in colourful conditions!
The example of Saul contrasts totally with the example of David who would not rebuke someone who was cursing him in case he was speaking the word of the Lord.
"If he curses, and if the Lord has told him, 'Curse David,' then who shall say, 'Why have you done so?' …… 'Perhaps the Lord will look upon my affliction and return good to me instead of his cursing this day.'" 2 Samuel 16:10-12
"He awakens Me morning by morning, He awakens My ear to listen as a disciple. The Lord God has opened My ear; and I was not disobedient nor did I turn back." Isaiah 50:4-5
Next
1. Introduction.
2. God's nature as creator and communicator.
3. The role of the Bible.
4. Turn aside when you notice something.
5. Be careful what you worship.
6. The Holy Spirit quickens things.
7. Hide and seek using parables.
8. Ask the Holy Spirit.
9. The inner room is where we meet with God.
10. The importance of peace and stillness.
11. Don't hurry God will speak.
12. Waiting and longing takes us higher to a place where God acts.
13. What price do we have to pay?
14. Holding a word for a time and part of the whole picture.
15. How do we know it's from God/Act in faith?
16. Jesus is open to persuasion!
17. The Language God uses to communicate.
18. God communicates through our sensory organs.
19. God communicates primarily to the heart.
20. God offends our mind to change our heart.
21. Listening depends on your heart attitude.
22. Circumcision is the cure to a hard heart!
23. Listen to your heart
24. Eyes.
25. Lift up your eyes.
26. Make sure your vision is clear.
27. Ears/hearing the voice of the Lord.
28. Reach for higher levels.
29. How God communicates - impressions.
30. Seeing with the eyes of your heart.
31. Visions.
32. Open visions.
33. Trances.
34. Signs.
35. Dreams.
36. Conclusion.
Media
Please sign the guestbook
Home.