The Holy Spirit quickens things to us
In John 6:63 Jesus states "It is the Spirit who gives life; the flesh profits nothing; the words (rhema 4487) that I have spoken to you are spirit and are life."
The Holy Spirit who breathed life into man does the same with other things in his communication with us. Soon after becoming a Christian, most people begin hearing from God through scripture. God will take a passage that they may have read many times before. He touches it with His Spirit and brings it to life making it the 'now' (rhema 4487) word of God at that particular moment and for that particular situation. The Holy Spirit applies this principle to other natural situations as well, and often, this is the starting place for God to speak prophetically to someone.
It is of the utmost importance in the prophetic to pay full attention to whatever the Holy Spirit is quickening or breathing life into.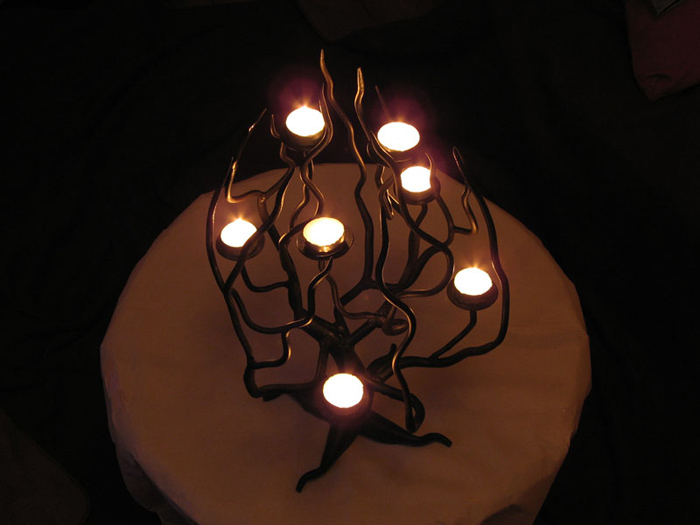 The seven fold spirit of God brings light (Revelation5:6)
The prophet Jeremiah is a good example for us. God speaks to Jeremiah. "Now the word of the Lord came to me saying, 'Before I formed you in the womb I knew you, and before you were born I consecrated you; I have appointed you a prophet to the nations." Jeremiah 1:4

God then starts speaking to him quite simply through nature. God asks him what he sees. Jer 1:11 Jeremiah replies, "I see a rod of an almond tree." God then uses this natural object to make a spiritual point using a pun. The Hebrew for 'almond' is Shaqed (8247). It comes from the root Shaqad (8245), which means to watch. "Then the Lord said to me, 'you have seen well, for I am watching Shaqad (8245) over my word to perform it.'" Jeremiah 1:12 (Barker 1999)

Then God asks him a second time what he sees, and this time it is "a boiling pot facing away from the north." 1:13 The word for 'boiling' is naphach (5301) in Hebrew. He then illustrates what is going to happen by saying to Jeremiah "Out of the north the evil will break forth on all the inhabitants of the land." 1:14 The Hebrew for "will break forth" is pathach and has a similar sound, another pun! (Barker 1999)
The example of the potter and the clay in Jeremiah 18 is a good instance of God developing a message using natural events. God told Jeremiah to (18:2) "Go down to the potter's house and I shall announce my word to you." There he watched the potter going about his business. The pot he was making was spoiled in his hands. This obviously attracted Jeremiah's attention, so he focused on it and watched as the potter remade it into another pot.
Then he realised that God was speaking to him and he goes on to record. "Then the word of the Lord came to me saying, 'Can I not O house of Israel, deal with you as this potter does? ….Behold like the clay in the potter's hand, so are you in my hand.'" 18: 6 God then speaks of how if the nation softens their hearts, repents of its evil, and allows Him to remold them, He will relent and spare it, but if it does not then judgment will come.
The people do not repent; in fact they harden their hearts. 18:18 "Come and let us devise plans against Jeremiah….Let us give no heed to his words." So God further develops this word and tells Jeremiah to buy a pot which has been hardened by firing in the kiln (19:1) and "Then you are to break the Jar in the sight of the men who accompany you and say to them, 'Thus says the Lord of hosts, "Just so shall I break this people and this city, even as one breaks a potter's vessel, which cannot be repaired." 19:10
Jeremiah thus communicates to them by acting out a parable.
Next
1. Introduction.
2. God's nature as creator and communicator.
3. The role of the Bible.
4. Turn aside when you notice something.
5. Be careful what you worship.
6. The Holy Spirit quickens things.
7. Hide and seek using parables.
8. Ask the Holy Spirit.
9. The inner room is where we meet with God.
10. The importance of peace and stillness.
11. Don't hurry God will speak.
12. Waiting and longing takes us higher to a place where God acts.
13. What price do we have to pay?
14. Holding a word for a time and part of the whole picture.
15. How do we know it's from God/Act in faith?
16. Jesus is open to persuasion!
17. The Language God uses to communicate.
18. God communicates through our sensory organs.
19. God communicates primarily to the heart.
20. God offends our mind to change our heart.
21. Listening depends on your heart attitude.
22. Circumcision is the cure to a hard heart!
23. Listen to your heart
24. Eyes.
25. Lift up your eyes.
26. Make sure your vision is clear.
27. Ears/hearing the voice of the Lord.
28. Reach for higher levels.
29. How God communicates - impressions.
30. Seeing with the eyes of your heart.
31. Visions.
32. Open visions.
33. Trances.
34. Signs.
35. Dreams.
36. Conclusion.
Media
Please sign the guestbook
Home.