If you want to know what God is doing/saying then ask the Holy Spirit
Hebrews 1:1 records "God after He spoke long ago the fathers in the prophets in many portions and in many ways, in these last days has spoken to us in His Son, whom He appointed heir of all things, through whom also He made the world."
As we can see God was very creative in his communication to mankind via the prophets. Then He sent his son to tabernacle among us John 1:14, just as God had dwelt with His people in a tabernacle in the wilderness. Jesus, having being involved in our creation John 1:3, came and shared our humanity being fully man and fully God John 1:1-5. In this way 'the second Adam' 1 Cor 15:45-47 came and showed us how to live a life both in the natural and spiritual realm and, in His death on the cross, made a way and provided provision for us to follow Him in this.
John 16:5-16 "But now I am going to Him who sent Me; and none of you asks Me, 'Where are You going?'….But I tell you the truth, it is to your advantage that I go away; for if I do not go away, the Helper will not come to you; but if I go, I will send Him to you…..I have many more things to say to you, but you cannot bear them now. But when He, the Spirit of truth, comes, He will guide you into all the truth; for He will not speak on His own initiative, but whatever He hears, He will speak; and He will disclose to you what is to come."
Jesus limited by His humanity could only be in one place at one time. Now, apart from the Bible and the occasions when Jesus visits people (Christophanies), the Holy Spirit is the main source of our communication from God. He is our guide and when you truly follow a guide, you have to give up your independence and where you want to go. He our only safe guide through life, as He will always lead us to Jesus in any situation, and He knows the very thoughts of God.
"For who among men knows the thoughts of a man except the spirit of the man which is in him? Even so the thoughts of God no one knows except the Spirit of God. Now we have received, not the spirit of the world, but the Spirit who is from God, so that we may know the things freely given to us by God." 1 Cor 2:11+12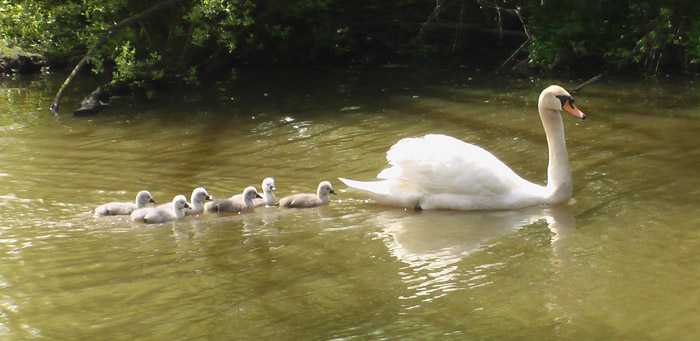 Follow the Holy Spirit and you will soon grow in the things of God (There once was an ugly duckling.)
One of the prerequisites to receiving from God is to know the Holy Spirit on first name terms.
Isaiah 33 v 15 – 17 "He who walks righteously, and speaks with sincerity, he who rejects unjust gain, and shakes his hands so that they hold no bribe; he who stops his ears from hearing about bloodshed, and shuts his eyes from looking upon evil; he will dwell on the heights; his refuge will be the impregnable rock; his bread will be given him; his water will be sure. Your eyes will see the King in his beauty; they will behold a far-distant land."
Psalm 101
"I will sing of lovingkindness and justice, to You O Lord, I will sing praises.
I will give heed to the blameless way.
When will You come to me?
I will walk within my house in the integrity of my heart.
I will set no worthless thing before my eyes;
I hate the work of those who fall away; it shall not fasten its grip on me.
A perverse heart shall depart from me; I will know no evil.
Whoever secretly slanders his neighbour, him I will destroy;
No one who has a haughty look and an arrogant heart will I endure.
My eyes shall be upon the faithful of the land, that they may dwell with me;
He who walks in a blameless way is the one who will minister to me.
He who practices deceit shall not dwell within my house;
He who speaks falsehood shall not maintain his position before me.
Every morning I will silence all the wicked of the land,
So as to cut off from the city of the LORD all those who do iniquity."
Next
1. Introduction.
2. God's nature as creator and communicator.
3. The role of the Bible.
4. Turn aside when you notice something.
5. Be careful what you worship.
6. The Holy Spirit quickens things.
7. Hide and seek using parables.
8. Ask the Holy Spirit.
9. The inner room is where we meet with God.
10. The importance of peace and stillness.
11. Don't hurry God will speak.
12. Waiting and longing takes us higher to a place where God acts.
13. What price do we have to pay?
14. Holding a word for a time and part of the whole picture.
15. How do we know it's from God/Act in faith?
16. Jesus is open to persuasion!
17. The Language God uses to communicate.
18. God communicates through our sensory organs.
19. God communicates primarily to the heart.
20. God offends our mind to change our heart.
21. Listening depends on your heart attitude.
22. Circumcision is the cure to a hard heart!
23. Listen to your heart
24. Eyes.
25. Lift up your eyes.
26. Make sure your vision is clear.
27. Ears/hearing the voice of the Lord.
28. Reach for higher levels.
29. How God communicates - impressions.
30. Seeing with the eyes of your heart.
31. Visions.
32. Open visions.
33. Trances.
34. Signs.
35. Dreams.
36. Conclusion.
Media
Please sign the guestbook
Home.