What price do we have to pay?
"I am the bread of life; he who comes to Me will not hunger, and he who believes in Me will never thirst." John 6:35
"If you knew the gift of God and who it is who says to you 'Give me a drink,' you would have asked him and He would have given you living water." John 4:10
"If anyone is thirsty, let him come to Me and drink. He who believes in Me, as the scripture said, 'From his innermost being will flow rivers of living water.' But this He spoke of the Spirit, whom those who believed in Him were to receive, for the Spirit was not yet given, because Jesus was not yet glorified." John 7:37-39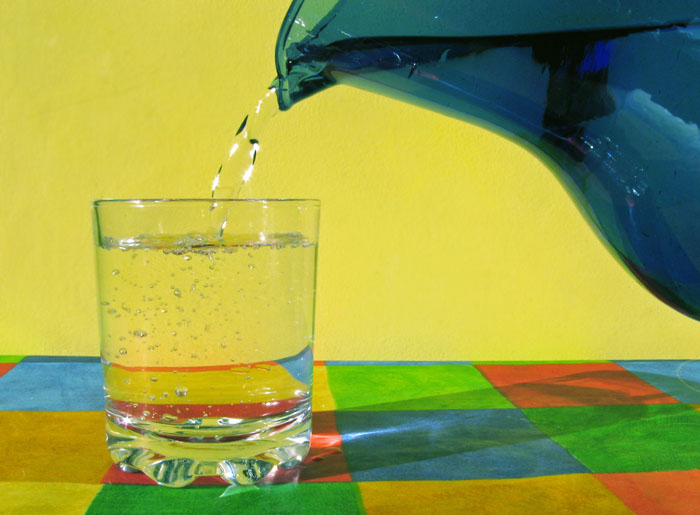 "Ho! Everyone who thirsts, come to the waters; and you who have no money come, buy and eat. Come, buy wine and milk without money and without cost. Why do you spend money for what is not bread, and your wages for what does not satisfy? Listen carefully to Me, and eat what is good, and delight yourself in abundance, incline your ear and come to Me. Listen, that you may live." Isaiah 55:1-3
One of the costs we need to pay for spiritual food is our time. However, the use of the Hebrew word for 'buy' gives us a clue as to another cost. The word for 'buy' here is shabar (7666) It is an unusual word to use in this context, as its root refers to buying grain. It is a denominative verb (formed from or having the same form as the noun) from shebar (7668) which means grain.
The only other times that shabar (7666) is used for 'buy' in the Old Testament is in the story of Joseph. The brothers went down to Egypt and attempted to buy grain from him. They thought that they had paid for the grain only to find their silver returned to them in the top of their sacks. When they returned hungry a second time to buy more grain, their long lost brother was returned to them. The hidden meaning behind the use of shabar seems to be that as we attempt to 'purchase' something from God; we find it is in fact free. However, although it is free, it does not come cheap. Just as they left everything behind and moved to where he was, so must we to 'buy' for free!
"The kingdom of heaven is like a treasure hidden in the field, which a man found and hid again; and from joy over it he goes and sells all that he has and buys that field. Again, the kingdom of heaven is like a merchant seeking fine pearls, and upon finding one pearl of great value, he went and sold all that he had and bought it." Matthew 13:44-46
How someone left everything behind to follow Jesus is illustrated in the New Testament by the story in Luke 7.
Luke 7:36-38 "Now one of the Pharisees was requesting Him to dine with him, and He entered the Pharisee's house and reclined at the table. And there was a woman in the city who was a sinner (1135+268); and when she learned that He was reclining at the table in the Pharisee's house, she brought an alabaster vial of perfume, and standing behind Him at His feet, weeping, she began to wet His feet with her tears, and kept wiping them with the hair of her head, and kissing His feet and anointing them with perfume."

When they were reclining at table they would lie in a circle on their left elbow with the food in the middle and their feet facing outwards. It was not unusual for uninvited guests to enter the room.
In Luke 7:36 the use of gune (1135) hamartolos (268) means this woman was almost certainly a prostitute and as such would have been an unwelcome guest who would not normally visit a Pharisee's house. This woman had therefore sought Jesus out, even to the point of going against what was culturally acceptable.
It was normal in Jewish circles for a woman to keep her hair tied up. Women only untied their hair in intimate situations.
Due to the hot climate where washing was difficult, prostitutes would wear an alabaster container of perfume around their necks. Alabaster is a porous material and when in contact with body heat, the fragrance would be released through the alabaster. The word for perfume here is muron (3464). It was not the cheap anointing oil that Simon would have been expected to use, as it is used elsewhere in the New Testament to denote a very expensive pure nard. (Mt 26, Mk 14, Jn 12:3)

She would have noticed that Jesus' feet were unwashed. By her tears we can tell that although her actions were intimate, her motives were pure. She was weeping tears of repentance. In pouring her perfume over Jesus' feet she was declaring an end to her prostitution, as this vial of perfume represented the defining tool of her trade and cost a considerable amount of money. Those with eyes to see would have realised this. The Pharisees however were offended.
Luke 7:39 "If this man were a prophet He would know who and what sort of person this woman is who is touching Him that she is a sinner."
Being touched by a prostitute made Jesus unacceptable in the eyes of the Pharisees. They could not see that Jesus' touch in her heart had made her clean and acceptable to God. One of the things that must have offended them was the aroma of the perfume. Some of them would have recognised it having passed her by in the street – perhaps some of them knew the perfume intimately!
Jesus then asks Simon Luke 7:44 "Do you see this woman?" In other words, can you see past her prostitution to the person she is becoming in front of you? If you had the eyes of the kingdom you would see the relevance of the prophetic act which she has just done!
Unfortunately Simon's prior opinion of this woman and his prejudice had blinded him to what was happening in front of his eyes. Jesus addresses this with a parable about forgiveness.
"A moneylender had two debtors: one owed five hundred denarii, and the other fifty. When they were unable to repay, he graciously forgave them both. So which of them will love him more?"

Simon's intellect enabled him to answer "'I suppose the one whom he forgave more' and He said 'you have judged correctly.'" Jesus then applies this parable to the events that had been occurring.
"I entered your house; you gave me no water for My feet, but she has wet My feet with her tears and wiped them with her hair. You gave Me no kiss; but she, since the time I came in, has not ceased to kiss My feet. You did not anoint My head with oil, but she anointed My feet with perfume." 7:44-46
When she had entered the house, the lack of respect shown to Jesus by the religious leaders broke the dam to open the flood gates of her emotions. It had touched a raw nerve in her because it mirrored the lack of respect that had been shown to her throughout her life as a prostitute.
Jesus who saw the situation clearly, did not gloss over her sins, but because of the extravagance of her actions and her obvious renunciation of prostitution, pronounced her sins forgiven. "'For this reason I say to you her sins, which are many, have been forgiven, for she loved much; but he who is forgiven little, loves little' Then He said to her, 'Your sins have been forgiven.'" 7:47
"For we are a fragrance of Christ to God among those who are being saved and among those who are perishing; to the one an aroma from death to death, to the other an aroma from life to life." 2 Corinthians 2:15-16

Next.
1. Introduction.
2. God's nature as creator and communicator.
3. The role of the Bible.
4. Turn aside when you notice something.
5. Be careful what you worship.
6. The Holy Spirit quickens things.
7. Hide and seek using parables.
8. Ask the Holy Spirit.
9. The inner room is where we meet with God.
10. The importance of peace and stillness.
11. Don't hurry God will speak.
12. Waiting and longing takes us higher to a place where God acts.
13. What price do we have to pay?
14. Holding a word for a time and part of the whole picture.
15. How do we know it's from God/Act in faith?
16. Jesus is open to persuasion!
17. The Language God uses to communicate.
18. God communicates through our sensory organs.
19. God communicates primarily to the heart.
20. God offends our mind to change our heart.
21. Listening depends on your heart attitude.
22. Circumcision is the cure to a hard heart!
23. Listen to your heart
24. Eyes.
25. Lift up your eyes.
26. Make sure your vision is clear.
27. Ears/hearing the voice of the Lord.
28. Reach for higher levels.
29. How God communicates - impressions.
30. Seeing with the eyes of your heart.
31. Visions.
32. Open visions.
33. Trances.
34. Signs.
35. Dreams.
36. Conclusion.
Media
Please sign the guestbook
Home.