Waiting and longing for God will take us higher to a place where God will act on our behalf

"Blessed is the man who listens to me, watching daily at my gates, waiting at my doorposts, for he who finds me finds life and obtains favour from the LORD." Proverbs 8:34-35
Waiting on God means having put all other things aside we patiently, concentrate our focus and attention solely on him, expecting Him to arrive. The best time to do this is during a time of external quietness where we will not be easily disturbed. This normally entails getting up early or staying up late.
Mark 1:35 "Very early in the morning, while it was still dark, Jesus got up, left the house and went off to a solitary place, where he prayed."
Isaiah 40:31. "Do you not know? Have you not heard? The Everlasting God, the LORD, the Creator of the ends of the earth does not become weary or tired. His understanding is inscrutable. He gives strength to the weary, and to him who lacks might He increases power. Though youths grow weary and tired, and vigorous young men stumble badly, yet those who wait for the LORD will gain new strength; They will mount up with wings like eagles, they will run and not get tired, they will walk and not become weary."

As we wait on Him, like that proverbial train or bus, God shows up eventually. If we stay awhile and journey with him we will learn how to spread our wings and fly. A lot of flapping is required initially but as we grow surer we will start to learn how to seek out the thermals of God's spirit that will lift us higher.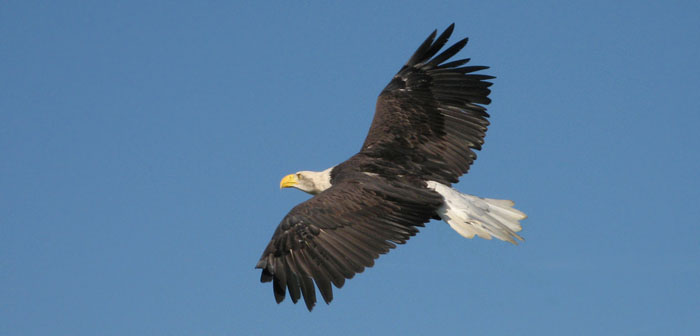 Jonathan Marshall, who hang-glides with falcons and eagles, describes how a bird of prey with its superior vision can see tiny particles of dust or grass swirling up in the air and then heads straight for it knowing that it is a thermal which will take them higher. On meeting the warm air the bird will change its position and angle its wings to get maximum lift. It will also ruffle up its feathers in order to trap as much warm air next to its body as it can, knowing that the air can be cold as it rises higher.
We using our spiritual senses can learn to recognise the Holy Spirit moving and act in the same way. One of these spiritual thermals is to meditate on God's rhema (4487) word to us from scripture and thus find meaning for our lives in it so that it becomes our daily manna. When we learn how to recognise and catch those spiritual impartations that God gives, and like an eagle we change our position by angling our spiritual wings, so that we catch that rising warm air of the spirit we are taken higher and our view point is changed.
The term used for fluffing up the feathers is 'rousing', so what we need to do is to rouse ourselves spiritually, holding the revelation God has given us close, so that we will be able to keep spiritually warm and protected when times get colder.
As we rise with Him, like the picture below, our vision is no longer limited by the mist in the valleys of our lives and we are able to see much further, even to the horizon where the sun/Son is rising! This change of perspective will have an invigorating effect on our lives and we will truly be able to walk and not become weary, run and not get tired.
As we go ever higher with God we may even hear the call of Revelation 4:1 "After these things I looked, and behold a door standing open in heaven, and the first voice which I had heard, like the sound of a trumpet speaking with me, said 'Come up here, and I will show you what must take place after these things.'"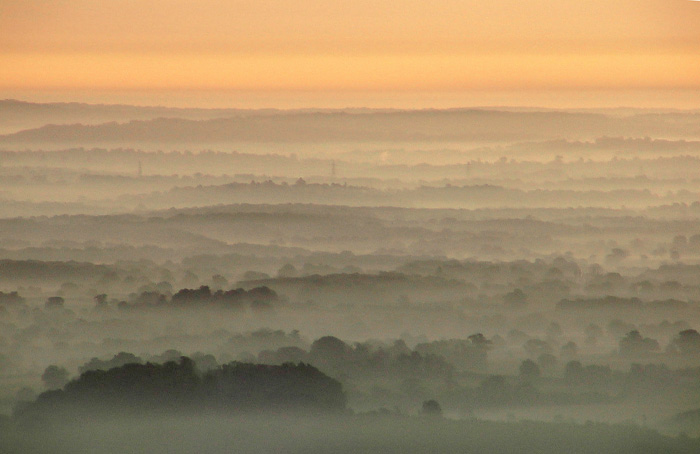 Sunrise over the misty valleys
Isaiah 64:4 "For from days of old they have not heard or perceived by ear, nor has the eye seen a God besides You, who acts on behalf of the one who waits for Him."
As we wait on God, He acts on our behalf. The Hebrew for acts is a strong word and is translated elsewhere as accomplish, do or make (6213a). God when we turn to Him, and just wait in His presence, will come to us, lift us higher in the Spirit and will act on out behalf – in fact He is waiting for us to do just that!
Isaiah 30:18 "Therefore the Lord longs to be gracious to you, and therefore He waits on high to have compassion on you. For the Lord is a God of justice; how blessed are all those who long/wait for Him." (Amplified)

Next.
1. Introduction.
2. God's nature as creator and communicator.
3. The role of the Bible.
4. Turn aside when you notice something.
5. Be careful what you worship.
6. The Holy Spirit quickens things.
7. Hide and seek using parables.
8. Ask the Holy Spirit.
9. The inner room is where we meet with God.
10. The importance of peace and stillness.
11. Don't hurry God will speak.
12. Waiting and longing takes us higher to a place where God acts.
13. What price do we have to pay?
14. Holding a word for a time and part of the whole picture.
15. How do we know it's from God/Act in faith?
16. Jesus is open to persuasion!
17. The Language God uses to communicate.
18. God communicates through our sensory organs.
19. God communicates primarily to the heart.
20. God offends our mind to change our heart.
21. Listening depends on your heart attitude.
22. Circumcision is the cure to a hard heart!
23. Listen to your heart
24. Eyes.
25. Lift up your eyes.
26. Make sure your vision is clear.
27. Ears/hearing the voice of the Lord.
28. Reach for higher levels.
29. How God communicates - impressions.
30. Seeing with the eyes of your heart.
31. Visions.
32. Open visions.
33. Trances.
34. Signs.
35. Dreams.
36. Conclusion.
Media
Please sign the guestbook
Home.