Preparing to bring a prophecy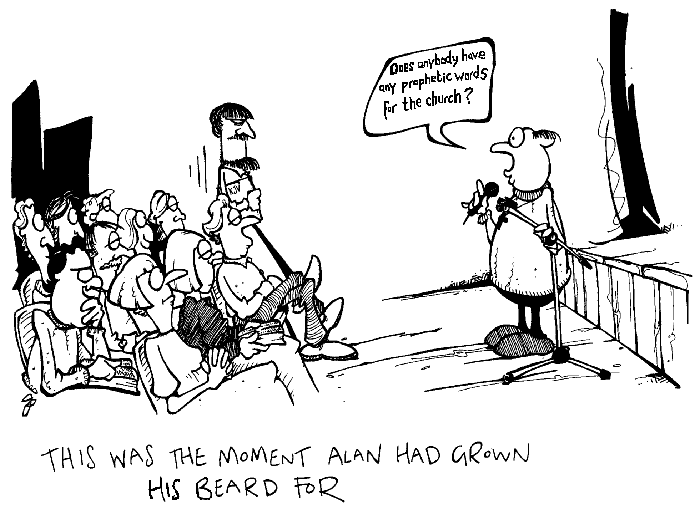 Cartoon courtesy of www.boldsfold.co.uk

When preparing to bring the gift of a prophecy, first of all make sure that it is a gift from God to the recipient, and brought in love. There is a reason why the two major chapters dealing with spiritual gifts in the New Testament (1 Cor 12 +14) have a chapter which is all about love at their centre. Love must be the filling of the prophecy sandwich!
Shawn Bolz (Bolz) tells a story of how he prayed for a man who came up to him after a meeting had closed. Shawn was tired and slightly irritated at the man for intruding on his time, and decided it was quicker to pray for him than to make excuses. As he prayed Shawn began to prophesy over the man. As the prophecy flowed Shawn heard a loud "Bong!" Startled, he looked around to see if anyone else had heard the sound, but everyone else seemed oblivious. Just then Shawn was reminded of "If I speak with the tongues of men and of angels, but do not have love, I have become a noisy gong or a clanging cymbal. If I have the gift of prophecy….but do not have love, I am nothing." 1 Cor 13:1-2
"Treat others the same way you want them to treat you…..But love your enemies, and do good and lend, expecting nothing in return: and your reward will be great, and you will be sons of the Most High; for He Himself is kind to ungrateful and evil men. Be merciful, just as your Father is merciful. Do not judge, and you will not be judged; and do not condemn, and you will be pardoned. Give and it will be given to you, they will pour into your lap a good measure – pressed down, shaken together, and running over. For by your standard of measure it will be measured to your in return." Luke 7:31-38
Always ask permission of the appropriate authority if you can bring the prophecy:
If you are a stranger to a church and know nobody there, it is probably best to submit the word in writing to an elder and leave it for the leaders to deal with, rather than stand up in the meeting and proclaim your word unannounced!
If it is a prophecy for the whole church that you are a known member of, and you are going to bring the word as part of a church meeting, it is best to prepare it before hand, and present it in advance, prior to the meeting to the leaders if possible. Present it to one of the leaders with responsibility for the spiritual direction of the meeting.
If you get something during a meeting, again the best thing to do is to approach one of the leaders with a brief summary of your word and let them decide if, and when it fits into a meeting.
Do not be concerned if the Elder says that this meeting is not the right time. Frequently, I have gone away and been pregnant with a prophecy. I continued to allow it to develop in me by praying and meditating on its form and meaning. I then presented it again in another meeting, when prompted by the Holy Spirit to do so, and it had a much greater impact than it could have had in the first meeting.
If the prophecy is for an individual, again ask someone in authority if it is OK to give the word – giving a brief summary and be guided by their response.
If the leader says yes then ask permission from the person it is for. If possible, it is best that somebody they know is present.
It is good practice to record the prophecy somehow, either by writing it down or speaking into a recorder. The recipient will then be able to go through it again rather than remembering just a small part of it.

Next
1. Introduction.
2. God is the only one who can interpret.
3. Bible is the best source.
4. Circumstances and knowledge can help.
5. Don't jump to conclusions.
6. Art or science? It'is only in part.
7. Ask for more.
8. Remembrance of the past can help.
9. How to interpret symbols correctly.
10. The importance of context
11. Don't add or subtract.
12. All prophecy must witness.
13. What if the opposite happens.
14. Dream interpretation.
15. Preparing to bring a prophecy.
16. How to bring a prophetic word.
17. Judging prophecy.
Media
Please sign the guestbook
Home