Always enquire from God when interpreting prophecy, do not jump to conclusions about what it means.
Our experience will not be the same as that of the person we are receiving a prophecy for. Therefore, if we interpret in the light of what we know in the natural, we could easily get it wrong. We should never jump in with a quick answer. Always be humble and seek God for the interpretation of what you receive from Him, wait on God and you will not make a potentially costly mistake.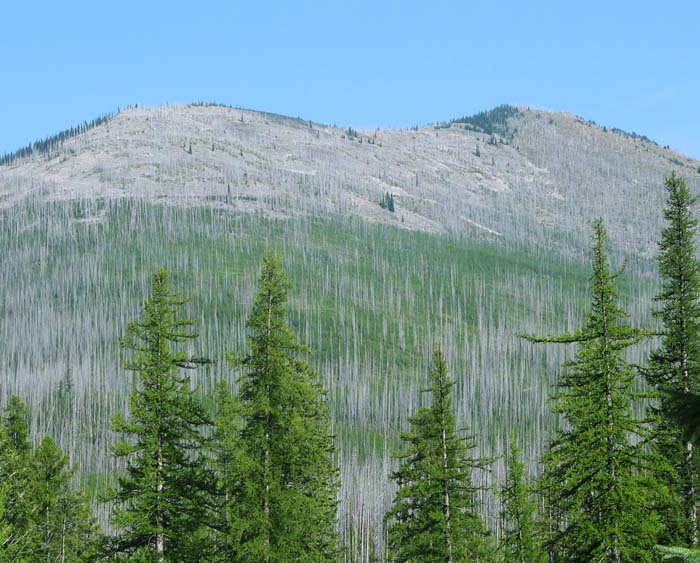 A forest fire has destroyed the trees just leaving a mountainside of dead grey posts;
but if you look carefully new saplings are growing up the mountain.
Nathan the prophet made this mistake in 2 Samuel 7:2-3 "Now it came about when the king lived in his house, and the Lord had given him rest on every side from all his enemies, that the king said to Nathan the prophet, 'See now I dwell in a house of cedar, but the ark of God dwells within tent curtains.' Nathan said to the king, 'Go do all that is in your mind, for the Lord is with you."'
Nathan had known the king for years. He knew that David had been tested by God and even though he had made mistakes, his heart was right toward the Lord. So, he presumed that this would be the right thing to do. After all David was living in a palace and God was in a tent. David had the wealth and means available to him to honour God and build him a temple fit for his abode. What could be wrong with this? So, without enquiring of God Nathan straight away gave his answer 2 Sam 7:3 "Go, do all that is in your mind, for the Lord is with you."

God had other plans however: "But in the same night the word of the Lord came to Nathan, saying, 'Go and say to My servant David, "Thus says the Lord, 'are you the one who should build Me a house to dwell in? For I have not dwelt in a house since the day I brought up the sons of Israel from Egypt even to this day; but I have been moving about in a tent, even in a tabernacle. Whenever I have gone with all the sons of Israel, did I speak a word with one of the tribes of Israel, which I commanded to shepherd My people Israel, saying, 'Why have you not built Me a house of cedar?'" 2 Sam 7:4-7
In a turn around of the situation God told David that instead of him building a house for God, that God was going to build an everlasting house and kingdom based on David! Knowing that Solomon his son would build the temple, David then put everything in place so that he could not fail, thus preparing the next generation and acting on the prophecy received.
2 Sam 7:16 "Your house and your kingdom shall endure before Me forever; your throne shall be established forever."
Thinking that God will answer in a certain way and that the meaning of a prophecy is obvious can be presumptuous and costly. Godly people in the Bible including, David and Jesus made a habit of enquiring of God as to his will in a situation, even if it was not what they wanted in a situation. "Father if You are willing, remove this cup from Me; yet not my will but yours be done." Luke 22:42 We should do likewise.
Next
1. Introduction.
2. God is the only one who can interpret.
3. Bible is the best source.
4. Circumstances and knowledge can help.
5. Don't jump to conclusions.
6. Art or science? It'is only in part.
7. Ask for more.
8. Remembrance of the past can help.
9. How to interpret symbols correctly.
10. The importance of context
11. Don't add or subtract.
12. All prophecy must witness.
13. What if the opposite happens.
14. Dream interpretation.
15. Preparing to bring a prophecy.
16. How to bring a prophetic word.
17. Judging prophecy.
Media
Please sign the guestbook
Home