God is a merciful judge
This cartoon is a picture of how we can sometimes wrongly perceive God.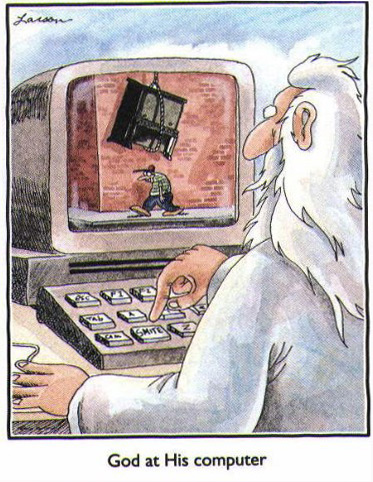 However, even in his judgement God was merciful and often challenged the hard line that the prophets took.
God rebuked Jonah when he was displeased and angry that the people of Nineveh repented and were spared (Jonah 4:1-3).
Hope after judgement
The full passage in the previous study from Jeremiah reads
"Behold, I have put My words in your mouth. See, I have appointed you this day over the nations and over kingdoms, to pluck up and to break down, to destroy and to overthrow,
to build up and to plant
." Jer 1:10.
It thus ends with hope after judgement.
"'For I know the plans that I have for you,' declares the Lord, 'plans for welfare and not for calamity to give you a future and a hope.'" Jer 29:11
When Ahab one of the most evil kings in the Old Testament repented, the word of the Lord came to Elijah saying "Do you see how Ahab has humbled himself before Me? Because he has humbled himself before Me, I will not bring the evil in his days, but I will bring the evil upon his house in his son's days." 1 Kings 21:29. See also 2 Chron 32:26.
Psalm 81 continues with: "But My people did not listen to My voice, and Israel did not obey Me. So I gave them over to the stubbornness of their heart, to walk in their own devices. Oh that My people would listen to Me. That Israel would walk in My ways! I would quickly subdue their enemies and turn My hand against their adversaries." Psalm 81:11-14
God's heart even in the Old Testament is summed up in Ezekiel 18:32 "'I have no pleasure in the death of anyone who dies' declares the Lord God. 'Therefore repent and live.'"
Next.
1. Introduction - friendship with God.
2. Friendship is higher than service.
3. OT prophet. The Spirit came upon them.
4. God wanted prophecy for all in the OT.
5. The wrath of God.
6. God is a merciful judge.
7. John the Baptist - the prophet between the OT and NT
8. NT prophet. The Spirit within we can all prophesy!
9. The spirit of prophecy is the testimony of Jesus.
10. Spiritual gifts are for building not destroying.
11. What you speak to rises up.
12. Prophesy truth not facts.
13. The primary purpose of prophecy in the NT.
Media
Speaking in Tongues
The Word of Knowledge
Home.