How do we get a word of knowledge from God?
Where inside do we receive a word of knowledge?
Where did Jesus get this word of knowledge for the woman at the well in John 4? "You have had five husbands, and the one whom you now have is not your husband; this you have said truly." John 4:18 And, how did he receive it?
John 4:24 "God is Spirit and those who worship Him must worship in spirit and truth."
God is Spirit. Therefore, Jesus must have received this supernatural word of knowledge in his spirit.
Rom.8:16 confirms this "It is the Spirit which testifies (summartureo 4828) with our spirit that we are children of God."
It is in the same place that our conscience speaks to us that God speaks
The same word is used in Rom 9:1 "I am telling the truth in Christ, I am not lying, my conscience testifies (summartureo 4828) with me in the Holy Spirit that I have great sorrow and unceasing grief in my heart."
1 Corinthians 2:12-14 "Now we have received, not the spirit of the world, but the Spirit who is from God, so that we may know the things freely given to us by God, which things we also speak, not in words taught by human wisdom, but in those taught by the Spirit, combining spiritual thoughts with spiritual words."
In the Greek the words 'thoughts' and 'words' are not present. A better translation of this verse is "Combining spiritual with spiritual."
In other words God's Spirit combining with our spirit is what enables us to know the things freely given to us by God.
This highlights the need to confess our sins regularly and keep a clean conscience so that we can receive freely from God's Spirit into our spirit.
How do we recognise the voice of God in our conscience?
There are several voices that speak to us within:-
The first is the voice of our conscience - This will give you the basis of what is right and wrong in a given situation. Romans 2:15 "They show the work of the Law written in their hearts, their conscience bearing witness and their thoughts alternatively accusing or defending them."
The second is the voice of the Holy Spirit - this is often a sudden inspired thought which can be a challenge to step out in faith - it often arrives like "a bolt out of the blue." It can give details of how to "know the things freely given to us by God" and how to act on them in a situation.
It can be morally challenging, in this respect it will be a convicting voice, not condemning, offering freedom on God's terms. Those terms will always be based on the commandment of abiding in the love of Jesus. "If you keep my commandments you will abide in My love; just as I have kept My Father's commandments and abide in his love.....This is my commandment that you love one another, just as I have loved you. Greater love has no one than this, that one lay down his life for his friends." John 15:10 + 12-13. If it is a for another, it is important to ensure that love is kept at the centre of the message.
It has a promise attached to it, if we act in obedience, faith and love.
"If you abide in Me, and My words abide in you, ask whatever you wish, and it will be done for you." John 15:7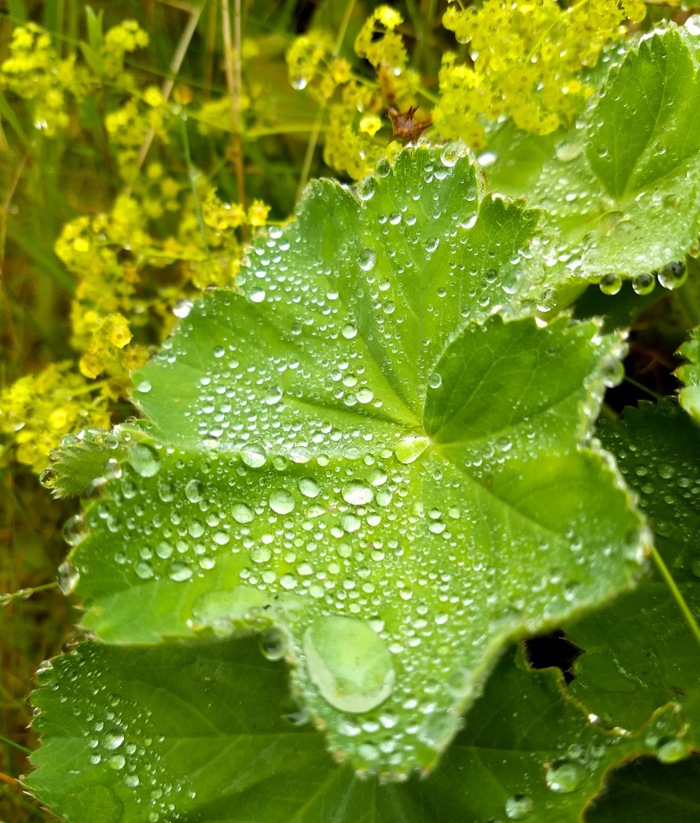 Make your words like the morning dew which descends on the cold and dry with jewels of refreshing

The third is the voice of the lust of the flesh - this is easily recognised, and if followed consistently will blunt and dull your conscience, thus preventing you from hearing clearly.

The fourth is the voice of the enemy - this can include temptation to sin. It will normally be a voice of condemnation in a situation trying to make you doubt, ("Did God say?" Genesis 3:1) and trying to prevent you from acting in faith.
If your conscience is not clean you will not hear properly
If the conscience is not clear, the ability to receive clearly from God will be limited. This is illustrated in John 12:28-29 where Jesus asks ""Father, glorify Your name." Then a voice came out of heaven: "I have both glorified it, and will glorify it again." So the crowd of people who stood by and heard it were saying that it had thundered; others were saying, "An angel has spoken to Him.""

Next
Introduction to the word of knowledge
Background to the word of knowledge in John 4
Words of knowledge have clues in the natural
OT v NT mindset when giving a word of knowledge
How do we receive a word of knowledge
Types of word of knowledge
Using a word of knowledge for the harvest
Sign the guestbook
Home